DOUBLE LANE WATERSLIDES

Welcome to our thrilling world of Double Lane Waterslides! Get ready to experience the ultimate rush of adrenaline as you slide down our exhilarating water attractions.

Our Double Lane Waterslides are designed to provide endless fun and excitement for all ages. Featuring two side-by-side lanes, these waterslides allow you to challenge your friends and family to a thrilling race to the finish line. Feel the rush of the wind in your hair as you plunge down the slippery slopes, gliding through twists, turns, and thrilling drops.

Safety is our top priority, and our Double Lane Waterslides are built with the highest quality materials and engineering standards. Each slide is carefully designed to ensure a smooth and secure ride, with sturdy supports and non-slip surfaces to guarantee your safety throughout the entire experience.

Whether you're hosting a backyard party, a community event, or a water park extravaganza, our Double Lane Waterslides are the perfect addition to create unforgettable memories. Watch as the laughter and excitement fill the air, as participants race against each other, creating a friendly and competitive atmosphere.

Our Double Lane Waterslides come in a variety of sizes and designs, allowing you to choose the perfect option to suit your space and preferences. From compact and portable options for smaller gatherings to larger and more elaborate structures for larger events, we have the ideal Double Lane Waterslide to meet your needs.

So, what are you waiting for? Dive into the world of Double Lane Waterslides and experience the thrill of a lifetime. Get ready to make a splash, create lasting memories, and bring endless joy to your next water adventure.
15' dual lane Glacier waterslide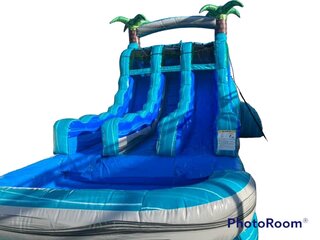 16' duel lane Fire island Waterslide w/extended slide lanes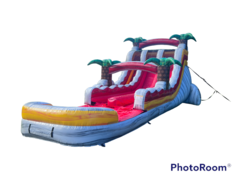 18' Dual Lane Baja Waterslide w/extended slide lanes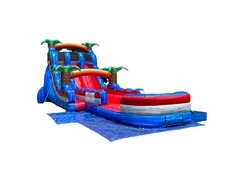 18' Dual Lane All American Waterslide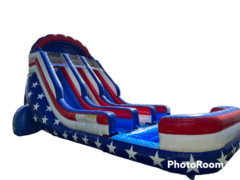 19' Dual Lane Shark Waterslide w/extended slide lanes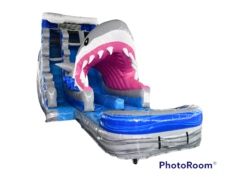 20' Dual Lane SunDrop Slide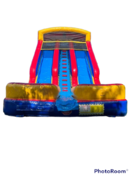 25ft Goomsbay Splash Waterslide W/SlipnSlide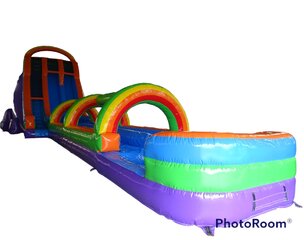 22' Dual Lane Purple Hurricane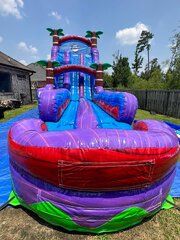 24' tropical paradise