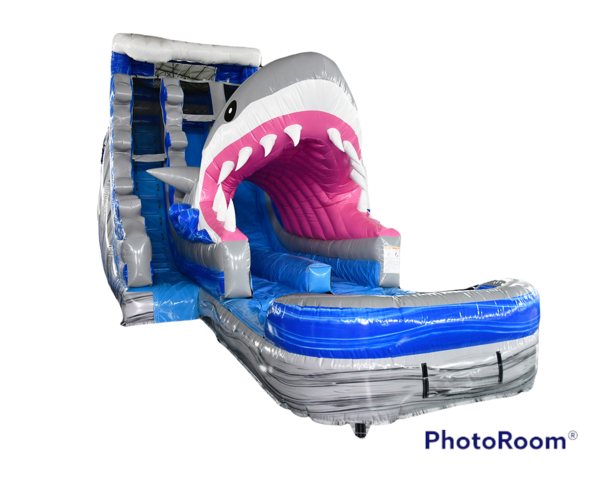 19' Dual Lane Shark Waterslide w/extended slide lanes
Actual Size: 37x19x18
Setup Area: 40x22x20
Outlets: 1
Age Group: 6 and up





Single Day: $355.00
Weekend (Sat-Sun): $405.00




Introducing the ultimate waterslide experience - the 19' Dual Lane Shark Hybrid Waterslide! This impressive slide is perfect for thrill-seekers who are looking for an exciting and adrenaline-pumping ride. With its dual lanes, you can race your friends to the bottom and see who can reach the splash pool first.
The Shark Hybrid Waterslide features a unique design that is sure to impress. The slide is adorned with a giant shark at the top, complete with sharp teeth and a menacing expression. As you make your way down the slide, you'll feel like you're being chased by a ferocious predator. But don't worry, the splash pool at the bottom will provide a safe and refreshing landing.
This waterslide is built with safety in mind. It is made from high-quality materials that are durable and long-lasting. The slide is also equipped with safety features such as safety netting and inflatable barriers to keep riders safe as they slide down.
The Shark Hybrid Waterslide is perfect for backyard parties, summer camps, water parks, and other outdoor events. It is easy to set up and take down, making it a convenient and hassle-free addition to any event. So why wait? Get ready to experience the ultimate waterslide adventure with the 19' Dual Lane Shark Hybrid Waterslide!