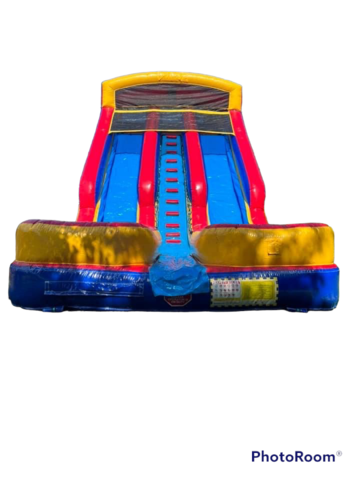 20' Dual Lane SunDrop Slide




Single Day: $349.00
Weekend (Sat-Sun): $399.00




Looking for a thrilling water slide that can entertain a large crowd? Look no further than our 20' Dual Lane SunDrop Slide! This impressive slide features two lanes, allowing two riders to race each other to the bottom. The slide stands at 20 feet tall, providing an exhilarating drop that will have riders screaming with excitement.
Constructed with high-quality materials, this slide is built to last and can withstand heavy use. The bright yellow and orange design is eye-catching and sure to attract attention. The slide is easy to set up and take down, making it perfect for rental companies, water parks, and other entertainment venues.
Safety is a top priority with the 20' Dual Lane SunDrop Slide. The slide features safety netting on the sides and top to prevent riders from falling off or getting injured. The landing area is also designed to provide a soft landing, ensuring that riders can enjoy the slide without any worries.
Whether you're planning a birthday party, corporate event, or just want to add some excitement to your backyard, the 20' Dual Lane SunDrop Slide is the perfect choice. With its impressive size, thrilling design, and top-notch safety features, this slide is sure to be a hit with riders of all ages.