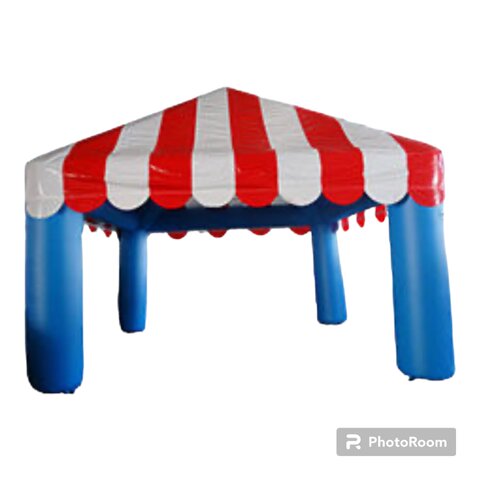 20x20 Inflatable Tent




Single Day: $149.00
Weekend (Sat-Sun): $199.00




Introducing our 20x20 Inflatable Tent for rent, the perfect solution for your outdoor event needs. This spacious and versatile tent is designed to provide a comfortable and stylish shelter for any occasion.
Crafted with durable and high-quality materials, our inflatable tent offers exceptional stability and protection against various weather conditions. Whether it's a sunny day or a light rain, this tent will keep your guests dry and comfortable throughout the event.
With its generous 20x20 size, our inflatable tent provides ample space to accommodate a large number of guests. Whether you're hosting a wedding reception, corporate event, trade show, or a backyard party, this tent ensures everyone has enough room to mingle, dine, and enjoy the festivities.
Setting up this tent is a breeze, thanks to its inflatable design. Within minutes, you can have a fully functional and visually stunning tent ready to impress your guests. The inflatable structure eliminates the need for complicated and time-consuming assembly, making it a hassle-free option for any event organizer.
Not only is our inflatable tent practical, but it also offers a sleek and modern aesthetic. Its clean lines and neutral color scheme provide a versatile backdrop that can be easily customized to match your event theme or branding. Add some lighting, decorations, or signage to create a truly personalized and memorable experience.
Safety is our top priority, which is why our inflatable tent is engineered with reinforced seams and anchoring points to ensure stability and security. Rest assured, your guests will be safe and protected throughout the event.
Renting our 20x20 Inflatable Tent is a cost-effective and flexible solution for your event needs. Whether you need it for a few hours or a few days, our rental options are designed to fit your specific requirements and budget.
Don't let unpredictable weather or limited indoor space hinder your event plans. Choose our 20x20 Inflatable Tent for rent and create a memorable and successful event that your guests will remember for years to come. Contact us now to reserve your inflatable tent and make your event a resounding success.