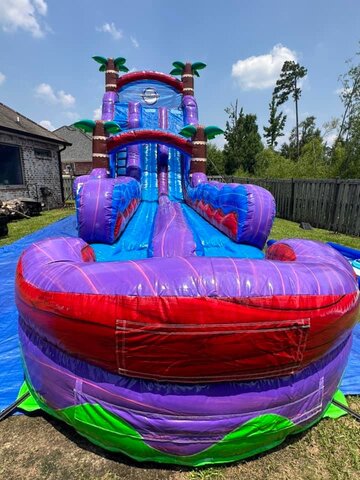 22' Dual Lane Purple Hurricane




Single Day: $425.00
Weekend (Sat-Sun): $475.00




Looking for an exciting way to beat the heat this summer? Look no further than our 22' tall, 50' long Purple Hurricane Giant Waterslide! This massive inflatable slide is perfect for all ages and will provide hours of fun and entertainment for your family and friends.
Featuring a vibrant purple color scheme and eye-catching design, this waterslide is sure to stand out at any event or party. The slide itself is made from high-quality materials, ensuring that it can withstand the wear and tear of regular use.
At 22 feet tall, this waterslide offers a thrilling ride that is sure to get your adrenaline pumping. And with a length of 50 feet, you'll have plenty of room to slide and splash around with your friends and family.
So why wait? Order your Purple Hurricane Giant Waterslide today and get ready to make a splash this summer!