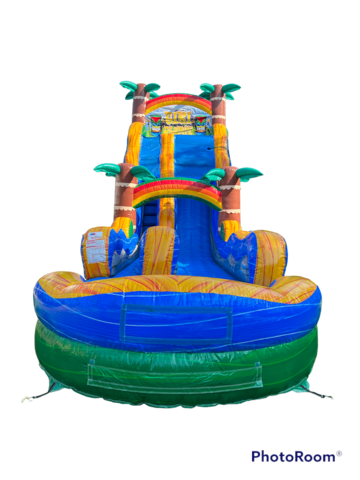 22' Tiki plunge waterslide




Single Day: $349.00
Weekend (Sat-Sun): $399.00




Introducing the ultimate summer attraction - the 22' Tiki Plunge Slide! This towering slide is sure to make a splash at your next event, providing hours of fun and excitement for kids and adults alike.
With its vibrant and colorful tiki theme, this slide is a true work of art that will add a tropical touch to any party. The towering height of the slide is sure to impress, as riders climb to the top and take in the stunning views before plunging down the steep slide into the refreshing pool below.
Constructed with safety in mind, the 22' Tiki Plunge Slide features high side walls, safety netting, and a cushioned landing pad to ensure a safe and enjoyable ride every time. The slide is made with high-quality materials and is built to withstand hours of use and abuse.
Whether you are hosting a backyard barbecue, a community event, or a corporate party, the 22' Tiki Plunge Slide is the perfect addition to any summer celebration. Don't miss out on the fun - book your slide today and get ready to make a splash!